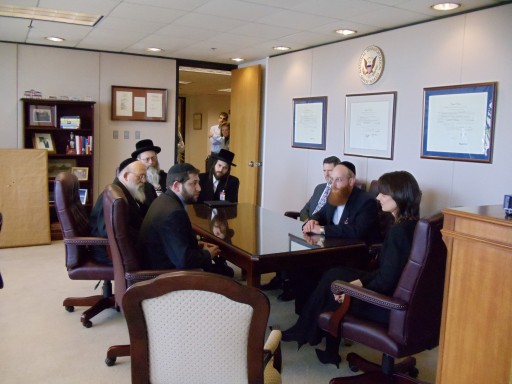 Washington – Chesed Shel Emes Meets With High Level Government Agencies
March 9,2011
vinnews
Washington – A delegation of five members of Chesed Shel Emes, the Brooklyn based organization that has been helping bereaved families in their time of grief for the past twenty years, traveled to Washington DC this past Monday to both express their appreciation and build stronger ties with government agencies who deal with emergency situations.
Rabbi Mendel Rosenberg, founder and president of Chesed Shel Emes, was joined by Chesed Shel Emes representatives Rabbi Yaakov Feldman, Zvi Gluck, Rabbi Sol Lipschitz and Rabbi Mayer Berger, in presenting the Community Appreciation Award to the National Transportation Safety Board, in recognition of their sensitivity to Jewish law and family needs in addition to expediting the burial of Jewish decedents.
"We at Chesed Shel Emes have sadly enjoyed a good working relationship with the NTSB," said Chesed Shel Emes Director of Government Relations Zvi Gluck. "We thank them not only for their wonderful work but for their understanding the particular needs of our community."
Paul Sledzik, Director of Transportation Disaster Assistance for the NTSB, expressed his admiration for Chesed Shel Emes in an exclusive interview with VIN News.
"The NTSB Transportation Disaster Assistance Division has interacted with Chesed Shel Emes and other Jewish disaster assistance groups in several recent accidents. For family members of the Jewish faith who choose to use these groups they provide important services during critical times. They also inform local authorities about the unique requirements for handling the victim and interacting with the family members. These services are helpful to the NTSB as they allow for our investigations to proceed more smoothly."
Next on the agenda for Chesed Shel Emes was a meeting with the Faith Based Initiatives department of the Department of Homeland Security which has partnered with the Federal Emergency Management Agency to reach out to various groups in the event of a natural or man-made disaster. Chesed Shel Emes laid the groundwork to forge a relationship with the Department of Homeland Security, explaining the support services they can provide and how they can help interface with the Jewish community in order to deal with the religious needs of our particular population, should a disaster ever strike, R'L.